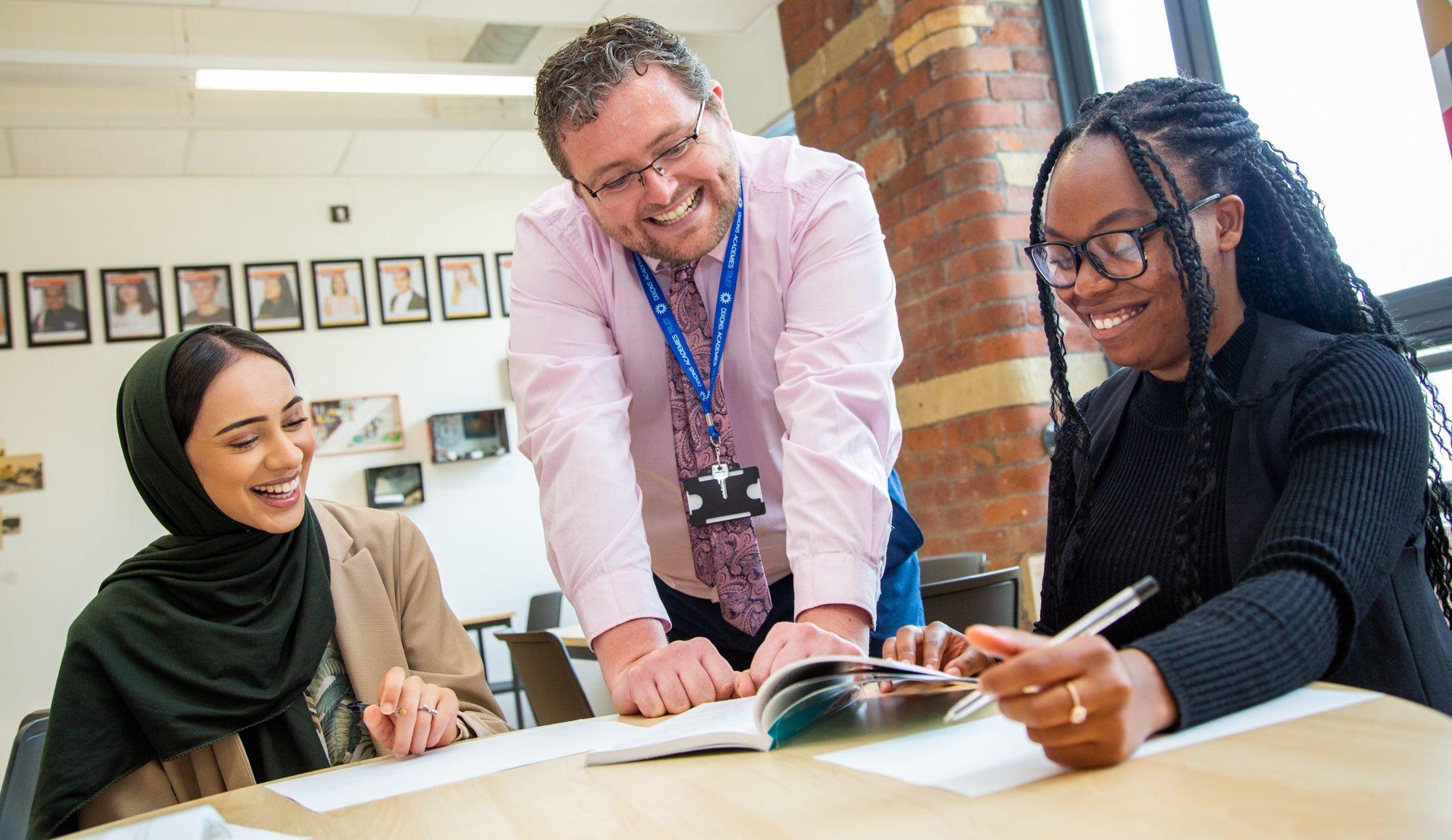 Development
As a regional centre of excellence and home of Bradford Research School, we provide high quality teacher training and professional development courses. We share the latest educational research and evidence-informed insights with schools locally and nationally to advance highly effective practice amongst the wider teaching community.
At Dixons, we are passionate and unapologetic about our relentless focus on learning. We invest heavily in teacher and leadership development and believe that everyone can continue to develop throughout their career.
An NFER research study has highlighted Dixons Academies as a Trust with particularly high retention rates. Quite simply, Dixons teachers are happy to stay working in Dixons academies. One of the underlying reasons for this, according to researchers, is the availability of inspirational teachers and leaders who offer support at every step of your career. In addition, Dixons teachers say that they have exciting opportunities for development - from co-planning or leading CPD to providing support for colleagues from other academies, or seeking a formal next step in your career.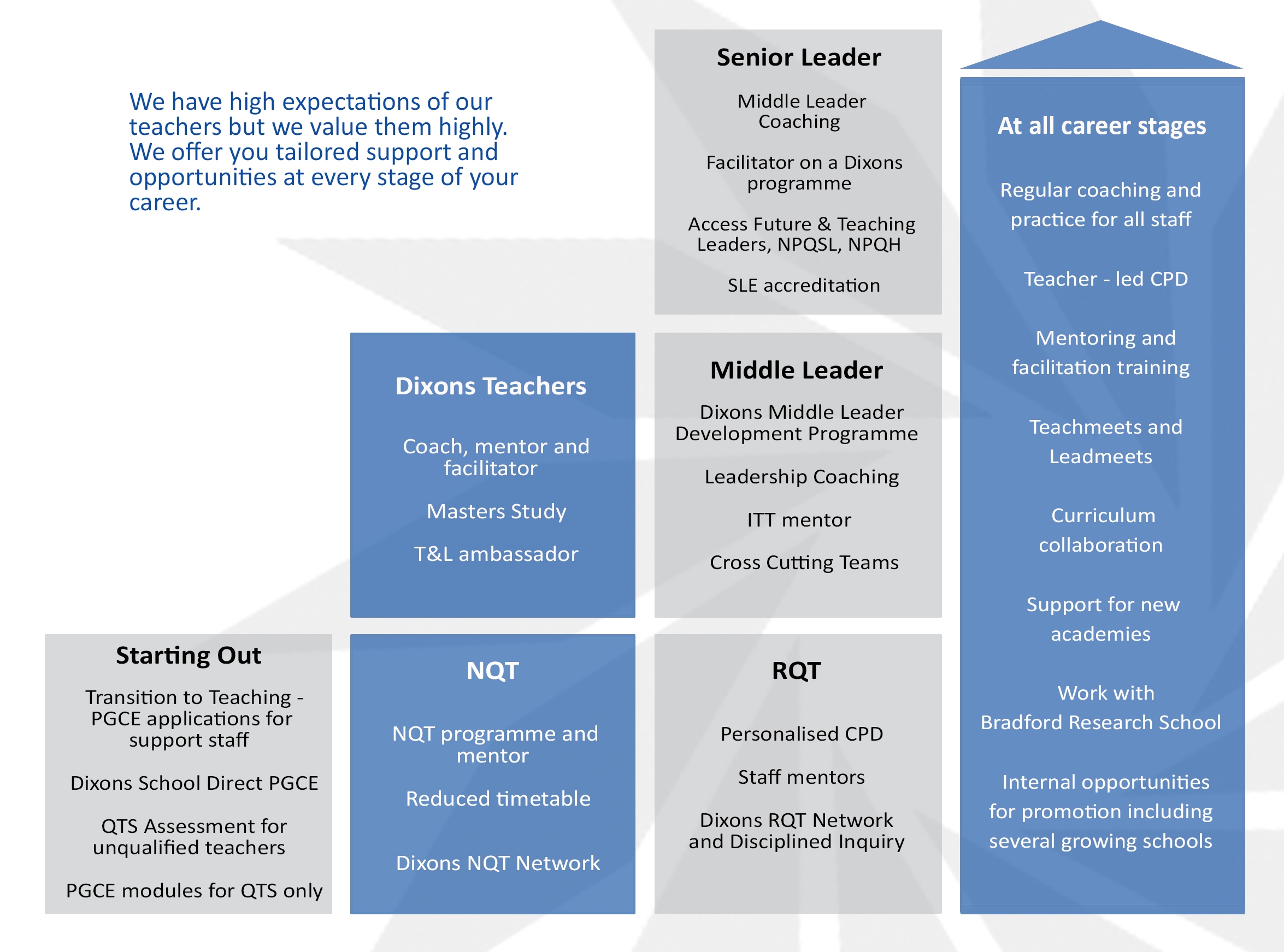 View our full CPD calendar here
Starting Out in your Career
Dixons teachers say that they value being part of a group of academies with similar values, priorities and systems. Dixons Early Career Teacher programme, in partnership with Ambition Institute, allows teachers in their first two years from across the Trust to meet and continue learning together.
Dixons ECF Programme, in partnership with Ambition Institute
Support as your career develops
As our careers progress, we thrive by continuing to learn. Develop your subject or specialist knowledge and start to influence teachers beyond your own classroom.
Dixons Leading Learning Programme
Cognitive Science at Dixons Academies
Dixons Disciplined Inquiry Programme
Leadership Development
What does a successful Dixons leader look like?
Be inspired by successful leaders, find out what is needed to take your next career step and get support from a Dixons mentor on one of our leadership programmes. Here new and aspiring leaders share challenges, reflect on experiences and solve problems with their peers.
Dixons Middle Leader Development Programme
We are offering a host of new NPQ qualifications in partnership with Ambition Institute, Beckfoot Trust and Bradford Diocesan Academies Trust.
Contact the Teaching Institute for further details.
Improving Learning Outcomes Beyond Your School
Our expanding multi-academy trust and Research School bring opportunity to improve life chances for children beyond your home academy. You could lead a cross cutting team, mentor a colleague in another Dixons academy, facilitate a Teaching Institute programme or become an expert teacher or coach in your own academy.
If you are seeking further part-time education to enhance your career and research to improve outcomes for students, Dixons Teaching Institute may be able to guide you in following a masters course.
Our multi-academy structure also provides you with formal career opportunities that help you to progress and stay with Dixons, continuing to make a positive difference to the children of the region.
National and local partners
We are proud to work with national and local partners with similar values and priorities as part of our professional development offer:
Contact Dixons Teaching Institute team, teachinginstitute@dixonsat.com, or speak to your Teaching and Learning lead if you are a Dixons teacher and interested in any further information.
Ready to Succeed?
If you need to get in touch with us, please use our contact page.