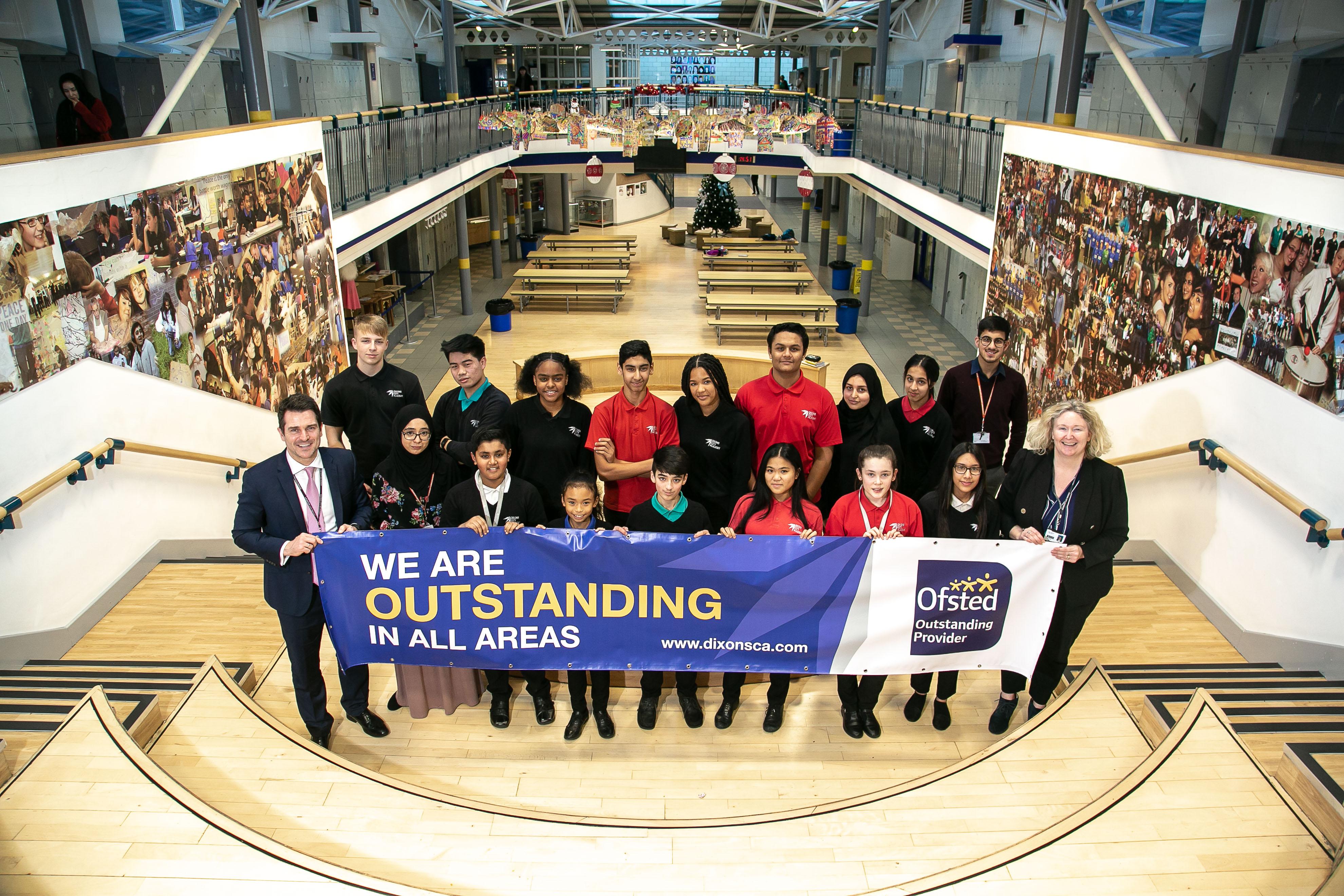 Dixons City Academy 'Outstanding' in all areas
Posted 3rd January 2019
Staff and students at Dixons City Academy received an early Christmas present, with the announcement that the school has been graded outstanding in all areas by Ofsted. Dixons City is the flagship school of our Trust, and has enjoyed a long history of success during the 30 years since it was opened. However, this marks a new standard as it is the first time the school has been graded outstanding in every category of the Ofsted inspection framework.
In the area of teaching and learning, the report states: "The quality of teaching, learning and assessment is outstanding across all year groups." It goes on to acknowledge the strong subject knowledge of teachers, their ability to inspire students to ask questions and deepen their understanding, it states, "Teachers show great passion for their subject, and their enthusiasm engages pupils to contribute well in lessons." This is matched in the sixth form, where teachers "communicate high expectations and provide students with challenging work." The report goes on to confirm that "careful analysis of students' progress in assessments enables them to address gaps in students' knowledge and understanding promptly."
The inspectors also found student behaviour in the school to be excellent, stating: "Pupils' behaviour in lessons is excellent." The report goes on to describe a "friendly buzz of conversation" in social areas during break and lunchtimes and further praises the general atmosphere around the school: "The climate of respect is the direct result of such positive working relationships between pupils, and between pupils and staff."
Dixons City celebrated yet another highly successful set of examination results, both at GCSE and A Level this summer - currently placing the school in the top 2% in the country for student progress. The report both backs up these achievements and shows considerable promise for future cohorts, stating: "Pupils make outstanding progress as a result of the outstanding teaching and support they receive. This is true across all year groups and virtually all subjects. The work being produced by pupils currently in the school is of exceptionally high quality."
Leadership and management also came in for praise, with leaders and staff sharing "a common understanding that pupils are entitled to be encouraged and challenged to meet their aspirational targets." Michael Feely, the recently appointed Principal who joined the school in September 2018, is immensely proud that the hard work of students and staff has been appropriately recognised by Ofsted. Mr Feely said: "This is a fantastic achievement for our school and the report accurately reflects the daily school life at Dixons City Academy. DCA is a place of educational excellence where we all strive together as a diverse community to change the world for the better. Our students, staff, parents/carers and governors truly deserve the recognition of being judged outstanding in all areas. I am very proud to be Principal at DCA and lead such an amazing school."
Access the full report and related news article below.