Dixons Newall Green - Virtual Open Evening
Date of Event: 18th October 2022
Event details
Join the live event here
Tuesday 18 October, 6pm - 7pm on Microsoft Teams.
About the event

We would like to warmly invite you to attend a virtual open event for the proposed opening of Dixons Newall Green.
As part of our proposal, we must meet our statutory obligation to consult with the local community on whether to enter into an arrangement with the Secretary of State to set up a new free school, starting with Year 7 in 2023 and expanding each year.
We have put together this virtual live event to ensure all prospective families and wider stakeholders, that couldn't make it to our previous in-person events, have the opportunity to be fully consulted. It is also an opportunity to hear more about our plans for the school. After the initial presentation you will also have the opportunity to engage in a live Q&A.
Who: families / wider community and stakeholders
When: Tuesday 18 October, 6pm - 7pm
Where: Microsoft Teams - Join the live event here
What: the live event will start promptly at 6pm. You will need to either scan the QR code below, or follow the link above to join the live event.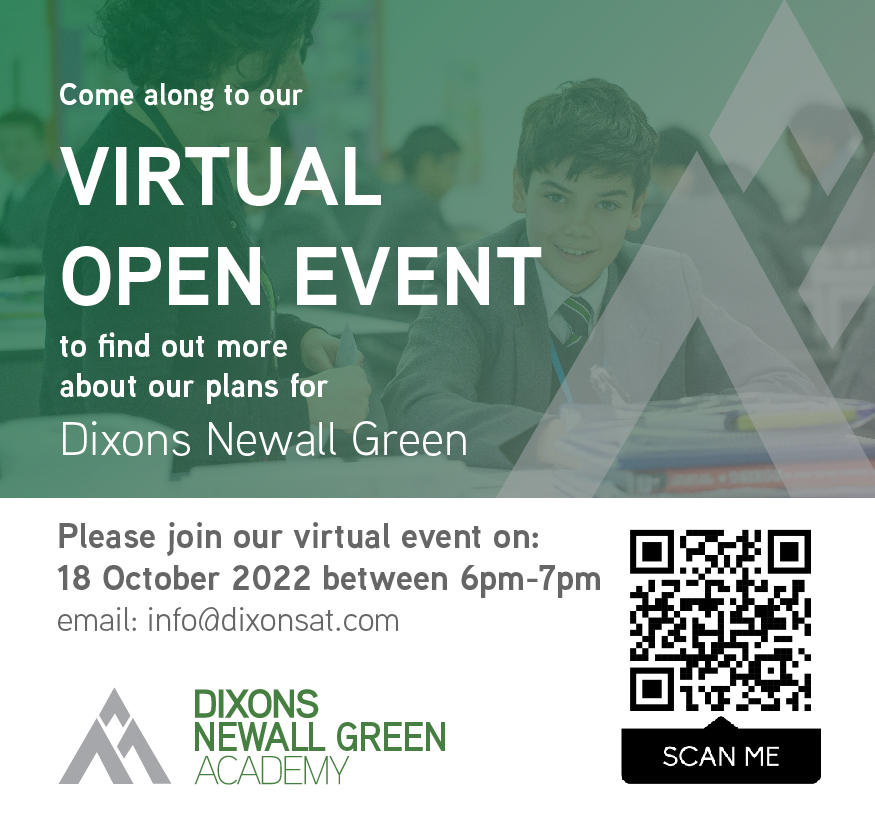 About our school

Dixons Newall Green Academy will be a new secondary free school located in the Wythenshawe district of Manchester, England.
The school will open in September 2023 to Year 7 students and will grow year by year until it has students aged 11 to 16 by 2027.
When choosing the best secondary school for your child, there are many factors to consider. That's why we guarantee that we will do whatever it takes, for as long as it takes, to ensure that every student at Dixons Newall Green acquires the powerful knowledge and positive behaviours they require to achieve their full potential.

For more information, contact us at info@dixonsat.com